How to Make a Website That Will Be Profitable
Create A Website That You Can Be Sure Of Because You Created It Yourself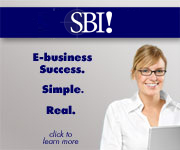 Do you need a website, but wonder how you can build it?
Do you want your website to make some money for you?
You've come to the right place.
Read on to see how you can build the site of your dreams with ease. In a moment, we will recommend some software that can help, but first let us share our story with you, to illustrate the most common mistakes people often make…
Common mistakes to avoid
Our story
A few years ago when we started our online business, we got stuck with the problem of how to create our company website – probably exactly as you are stuck right at this moment. With our modest computing and graphics skills, we developed a site, doing all the graphics and writing the pages in Dreamweaver, using HTML code.
The site looked sort of OK. It was tidy, and contained all of the information which we thought our customers would need. Despite this, the discussions between us were endless: "What will our visitors think, when they arrive at such an unprofessional site?" These worries and discussions took away most of our business time. In the end we decided not to risk using the site, and hired a professional webmaster to develop one for us.
This time, the website flashed with moving objects to stress out the main objective of the website. Everything looked shiny and glossy. There was only one problem – the web site cost us a fortune, and when we needed to change something, it cost us even more.
Another problem we came across with (with both versions of our site) was that the sites were of no use to us. Even though we had all the information on them which we believed our visitors needed, there were no visitors! Ultimately it was no more than a gallery for the skills of the web designer whom we had hired. It was a huge investment, but pointless: we had no visitors hence no income!
After all these issues, we both realized that having the ideal site can't be achieved through building it yourself (unless you are a professional), or hiring someone to do it for you.


So, what's the alternative?
How to get the site you want and need without wasting time and money
Our experience has shown us that the best way to get the site you need is through using site building software which does the job for you – the WYSIWYG option (What You See Is What You Get). All you need to do is type in the content you need to include, add pictures and features by clicking and dragging, and you quickly and easily get the site you dreamed of, which you are in full control of from the outset.
We found the software which we'd now like to recommend to you – Site Build It! produced by the SiteSell company. We don't know of any better solution for anyone looking to launch a professional, accessible site that answers all of their company needs***
***Note: please read section Is the Site Build It! software for you? below before committing.
How Site Build It! will help you enhance your online presence and build your business
Site Build It! supports simple web development, by providing all the templates you need to create your site, without the need for programming of any kind. All you need to do is to choose the template you like, and then add in all your content and features by dragging, clicking and pasting it in. The Site Build It! software is simple and easy to use, and specially designed to support people to create eye-catching and effective sites. The software lets you build your ideal site from scratch, to the level of a professional web designer.
And there is more.
The software has all of the tools and features which you need to get your business up and running effectively. Here are some examples of the tools that you can use to create a user-friendly and business-focused site as an internet entrepreneur:
BrainStormIt, a tool that helps you to choose your niche market and corresponding keywords (using the keyword tool also provided within the package), to ensure that you start on the right track. The tool will find a niche which is not saturated, but still lucrative – using conventional business language – to give you the 'demand' vs. 'supply' data for a particular niche
Web hosting and domain name registration, without a hard sell. There is no need to choose a separate web hosting company, as the software not only helps you to create your website, but also to publish it. Needless to say, both features are provided at no additional cost
Site Build It! includes software to create your own logos, navigation buttons and backgrounds. With the click of a button you can create any effect like outlines, drop shadows, glows, bevels, embossing, textures, gradients and much more. If you are familiar with PhotoShop software, you know the kind of functionality it has – Site Build It! does it all
You need to attract visitors to your website. Attracting customers is a very important element of any business. Site Build It! helps you by submitting your website to all the major search engines, providing you with reports on what your website position is in the lists. Moreover, it also gives you tips on how to improve your position.
Another great quality about the software is that it comes with a comprehensive support service, which is available 24/7, all year round to deal with any queries which you may have about getting your online business up and running.
Is the Site Build It! software for you?
Let's take a look at who is best suited to use the SiteBuildIt! software…
Are you new to the internet?
If you are totally new to the internet, in the sense that:


You have never built a website
Don't know HTML or any other programming language
Don't understand keyword tools
Are unsure about web hosting and why you need it
Don't know what domain name registration is…
…then, Site Build It! software can definitely be of great help for you. This is because the software offers you an all-in-one web hosting and site building package. In other words:
With this software, you can both build your website by dragging and clicking, and create graphics.
The software also means you don't have to buy a domain name separately, or struggle with choosing your best web hosting company. All the costs for building, launching and setting up your site are included within the software price.
Are you considering starting your own online business?
If you are, then finding your perfect niche for the business should be your first priority, and Site Build It! can help you.

Unlike traditional site building software and web hosting plans with web development services, Site Build It! provides a tool that helps you to both brainstorm ideas for your niche market, and find profitable keywords to support you in promoting it. The trick is to find a niche that is not too competitive, but still profitable. The handy tool provided with Site Build It! helps you do exactly that.
In addition, the software also includes an integrated help service to support you to market your online business, following your launch
If you already have an offline business…"]
If you have an offline business and are looking to increase your capabilities by generating an online presence, again Site Build It! will support you to:
Build your website by dragging and clicking
Create pictures for website
Create effects such as outlines, drop shadows, glows, bevels, embossing, textures and gradients
Provide domain name registration and web hosting
Find profitable keywords for your niche
Submit your website to all major Search Engines
Track all dates the position of your website on search engines lists
Tell you what you can do to improve your website ranking on search lists.
If you already know a lot about html, ftp and all that web stuff already
Are you competent in html, php, ftp? Do you know what web hosting is about and how to get one for your website? Have you already chosen your niche? If so, Site Build It! is probably not for you. Perhaps you would gain more support from XsitePro or a WordPress software to build your blog.
And if you are an experienced online marketer
If you are an experienced online marketer, Site Build It! is definitely not for you. Again, we would recommend you use the XsitePro or a WordPress software to build your blog or hire a professional web designer (you can find one on elance.com, for example, where people can set up and maintain your website for a few hundreds dollars).
And, if you are an HTML pro, then perhaps you would prefer to have complete control of your site, editing the programming directly. Again, you would be better off using software such as DreamWeaver or FrontPage, and a graphics package such as PhotoShop for getting images online which match the ideas you can imagine!
You will also have to choose a well-priced and reliable web hosting company with a package suited to your needs. Going down this path will, in the long run, be cheaper than using Site Build It!
How much will it cost me to get my site up and running with Site Build It!?
To access all of the functionality we've mentioned above, it costs just $29.99 per month, or you can save $60 if you pay an annual software charge of $299 in one simple instalment.

This may seem expensive initially, but you only have to consider some of the benefits to realise just what a great deal this actually is.
While Site Build It! may be a little more expensive than some other website building software, it's worth taking into account that with this software you get it all-in-one and you are not stuck facing your business alone. Rather, you have access to an assistant who makes sure your business starts from the right place and moves along the right track.
Check out the following comparison table to see for yourself…
Without Site Build It!
Using Site Build It!
Web Hosting

$70

per year
Included
Domain name

$10

per year
Included
Keyword tool
Around

$100

Included
Website building software
From

$60

to about

$300


(XsitePRO/Dreamweaver e.g.)
Included
Graphics software

$900

(Photoshop e.g.)
Included
Marketing strategy
Books, courses, etc:

$100

+++
Included
Support from an expert
About $200 – $300 per hour
Included
TOTAL INVESTMENT
$1400 + $280 per year or more

$299

per year
SiteSell offers 24/7/365 help and support and runs a forum for their customers where they can get support and advice on all internet business issues. With Site Build It!, not only you will build your own business online, you'll get all the help you need along the way!
When you consider it this way, suddenly Site Build It! becomes obviously value for money.
How much do you plan to earn?
Would you like to have a devoted companion who helps you to achieve that?
Can you afford to spend $25 per month for having such a companion?
Sure, yes!
With Site Build It! you do get exactly that: for $25 per month, you get a dedicated assistant who helps you to set up your successful internet business, build a website and market it, thus turning it into a lucrative proposition.
Any complaints?
As always, there are some people who are not satisfied with the functionality which Site Build It! offers.
Why?
Let's list a few examples of the common complaints we have often heard online, and we can discuss them one by one…
Some people think that with Site Build It! you do not own your domain name. Well, this is not true: you do! As with any web hosting package bought from a decent web hosting company, Site Build It! does not deprive you of the right to own your domain name. All it does is to ease the hassle of you buying one. That's all. And your domain name is yours for as long as you wish. Should you move away from Site Build It! at any time, for whatever reason, you take your domain name with you.
Some people think that once a website is built within Site Build It! you are tied to it forever. Again, this is not true. Experienced marketers who feel that they have outgrown the help they receive from Site Build It! may wish to move away from the software. In this case, with a few minor and simple changes, it's possible. As for beginners, Site Build It! can operate as a companion, guiding you through the whole process so well that even experienced marketers choose to stay with the software once they are established online.
Of course, many see that $299 is too much to pay to get their business online. Again, these are people who do not appreciate the power of Site Build It! as both a website building software and provider of business advice. All you need to do is subtract the payments which you would make from the low price of $299 per year for such things like hiring a web developer, online marketer and graphics designer, paying for publishing of your website, 24/7/365 friendly business support and advice and it becomes apparent just how much value the software can offer you.
Taking all this in to consideration, the price $299 per year is far from daunting. (Check out the comparison table above to see for yourself).

So, you can see that unless you are an experienced internet marketer who knows exactly what you are doing, Site Build It! is going to cost you much less to build your website based business project!
What to do now?
If you are ready to make the website based business project of your dreams come true now, buy the Site Build It! software and start building your website and your business.

Try all the tools out, fall in love with it and make Site Build It! your business friend for as long as you need it.
As with all legitimate companies, Site Build It!'s manufacturers offer a full 30-day money back guarantee if you aren't happy with it for any reason.
What if I get stuck and need help?
Simple – you just get help! SiteSell have a 24/7/365 friendly helpline and a forum to support you with all of your queries, so, you are not alone when building your own business. And, as we have said, all the risk is taken by SiteSell through the Money-Back Satisfaction & Success Guarantee.
We wish you the best of luck with getting the online business of your dreams up and running now.
Hope this helps
Dr. Lena Morrish, PhD
Co-founder of Bridge To Success
Where ordinary people with extraordinary passion can make their dreams come true

Read more?
How To Make Your Business Take Off And Fly High With An Outstanding Website by Dr Lena Morrish
For most people the idea of creating a website of their own is a pretty scary concept. Even for people with a fair bit of knowledge of computers and the internet the thought of getting to grips with website software and that gobbledegook they call HMTL is enough to scare the pants off them. Our sole aim is to take all of the confusion and fright out of the process of building a website by showing you exactly how to make a website in a way that anyone can understand [...]
If you have any comments, please leave them in the box below
Leave a Reply